In our post below, Relocating to Melbourne – Things to do we have listed some fun activities for you. Whether you have a love of great food and wine, need a laugh or want the kids to enjoy the sand, Melbourne has something to offer everyone this March. Now that you have relocated, it's time to have some fun and start exploring the wonderful city that is Melbourne.
Relocating to Melbourne – Things to do

Melbourne International Comedy Festival
http://www.comedyfestival.com.au/2016/season/
The Melbourne International Comedy Festival is the third-largest international comedy festival in the world and the largest cultural event in Australia. It takes place annually in Melbourne over four weeks, starting on the 23rd of March and running through to the 17th of April. The Melbourne Town Hall serves as the festival hub, but performances are held in venues throughout the city. Need a laugh? This is place to go.

Melbourne Food & Wind Festival – 4th – 13th of March
www.melbournefoodandwine.com.au
From World's Longest Lunches in breathtaking places to avant-garde tasting dishes from global culinary superstars, the Melbourne Food and Wine Festival has it all. Indulge the senses over 10 days as a diverse program of one-off events unfold throughout Melbourne and regional Victoria.
Melbourne Food and Wine Festival boasts a diverse program of unforgettable events that fill Melbourne's network of laneways, restaurants, bars, cosy basements and rooftops, and spills into regional Victoria.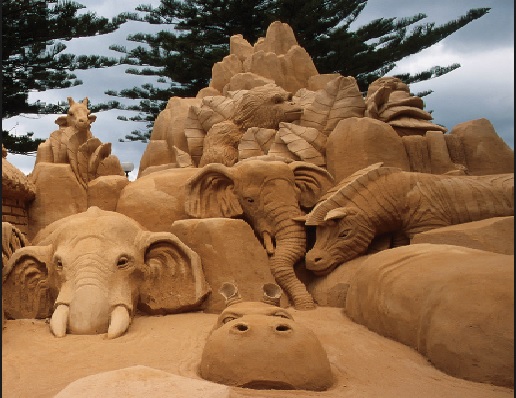 Sand Sculpting – Frankston 2016
https://www.visitfrankston.com/frankston-sand-sculpting
You will be amazed by our life size sand sculptures on display created by 20 of the world's finest sculptors. Over 3,500 tonnes of sand has been transformed into mesmerising sand sculptures of all your favourite and much loved zoo animals, but with a twist!
As you walk through the sand pathways you will recognise the sand renditions of Monkeys, Giraffes, Elephants, Lions and Meerkats alongside Orang-utans, Zebras, Gorillas and countless more! Perfect for the whole family to enjoy.